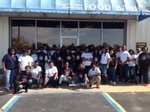 Club Members
On November 15, 2017, Abbeville High School's Family, Career and Community Leaders of America (FCCLA) and Future Business Leaders of America (FBLA) served as Brown Bag Volunteers. In conjunction with the Wiregrass Area Food Bank, both clubs were able to donate canned goods, pack brown bags, and carry bags of groceries to participants' vehicles.
The Brown Bag Program of the Wiregrass provides a supplemental program for eligible individuals age 60 and older. It is designed to help those individuals whose main source of income is social security. Community Service is a key principle of both high school clubs. One of our goals is to Encourage members in the development of individual projects that contribute to the improvement of home, business, and community. We seek to improve our community by contributing our efforts and our resources to worthwhile projects.
The clubs serve under the leadership of Mrs. Tiffany Wilfork (FCCLA Sponsor) and Mrs. Wonderan Davis (FBLA Sponsor). The sponsors were rewarded by accomplishing their goal of teaching students how to share. Most importantly, teaching our students to share with the less fortunate.